THE INCREDIBLE COLD-HARDY TRACHYCARPUS PRINCEPS PALM !!!!!!!!!!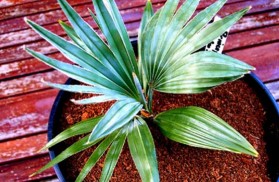 TRACHYCARPUS PRINCEPS "GOLDEN LOTUS" Stone Gate palm
The rarest of all Trachycarpus palms! The leaves have bluish colour and thick white wax under the leaves!!!! Grows on lime-stone mountains in China near the border of Tibet.
Many small palms have been sent all over the world and every-one will agree that this is the real, most famous and most wanted Trachycarpus.
Because of confusion in the past about wrong named seeds of Trachycarpus princeps sold by seed-dealers, people in Europe named our seeds "Trachycarpus princeps "Golden Lotus".
Very cold-hardy! Palms have been tested in Germany minus 18 Celsius without damage!
ENSETE GLAUCUM, the Snow-Banana.
An absolute novelty that shows great promise as an ornamental for the temperate as well subtropical gardens! Seeds might be available!
ENSETE SUPERBUM SUB. SP. THAILAND
A very rare Banana plant from the North of India and Thailand.
Ensete superbum comes from the Western Ghats of India, the great chain of mountains that forms the ramparts of the Decan Plateau.
However Ensete superum or a very simular species as yet unnamed is found in the North of India and Thailand. They call it "the Rock Banana". This species should be far more cold-hardy than the Ensete superbum
Ensete superbum subsp. Thailand is a magnificent ornamental!
Compared to other Ensete's the pseudostem is very short so the plant has rather the appearance of a huge nest-fern.
The midrib has a red blush on the underside of the leaves. The foliage is spectacular!
Seeds might be available!